Updates to Transition Phase from 26th April 2022 – Further Notice
Social gatherings within a household are no longer limited to 10 unique visitors at any one time
(From April 26 2022, the maximum number of unique visitors per household of 10 will be lifted)
On limitations and restrictions for common area and external venues for hosting, please check with relevant establishments and authorities in charge.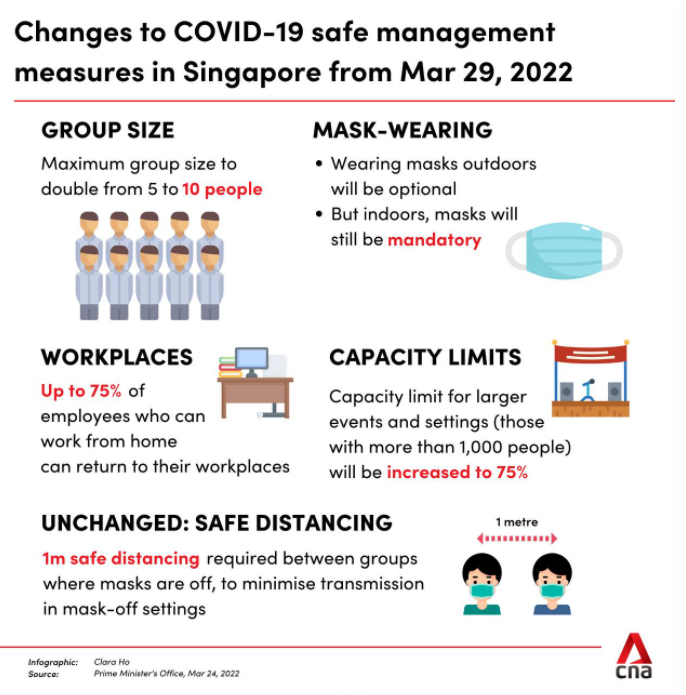 More information @ (Please note that there can be a delay in updated information since PM's Speech) https://www.channelnewsasia.com/singapore/group-size-limit-covid-19-safe-distancing-singapore-return-workplace-apr-26-2641146https://www.moh.gov.sg/covid-19-phase-advisory
Looking for Kids Party Venues to host for more pax? Find out more @ https://www.jellybeanparty.sg/kids-party-venue-for-covid19-more-than-5-pax/
Q1: What is the prevailing permissible group size for kids party and small group gathering within households?
As of the latest update from 26 April 2022, there are no limits to the number of unique visitors allowed to households
Q2: What is the prevailing permissible group size for kids party and small group gathering outside of households?
From 26th of April, there are no limits to prevailing permissible group size within common areas.
Condo facilities such as Function rooms & Shared Swimming Pools are considered common areas. Please check with your management on any clarifications.
Indoor playgrounds and other entertainment venues may have options on catering to more depending on their space allowance.
(Currently we do not recommend hosting at external venues)
Q3: How does Vaccination Status affect the gathering?
Currently, there are no distinctions on vaccinated / unvaccinated guests limits as of 26th of April.
Q4: Are your talents Vaccinated?
As all our talents are all aged within 19 – 39 and fall within the last to receive vaccination priority, most are vaccinated, while the rest are currently still at 1 – 2 doses or within the 2 week waiting period.
Minimally our talents are all in "Vaccination in Progress" status and can perform with their mask on.
With the current restrictions, gatherings of full-vaccinated personals are encouraged, but not mandated.
How has COVID-19 affected Jellybean Party?
Like all good businesses, Jellybean Party is rolling with the times and adapting to the current situation that we all temporarily find ourselves in. We have been working hard behind closed doors all week putting together packages, programmes and party alternatives to help keep your children engaged and entertained during this lockdown and to ensure that their special celebrations don't go by unnoticed.
What are your available kids party entertainment options?
LIVE PARTIES INDOORS (LIMITED PAX)
We have been offering live entertainment for over the past ten years. With the lifted measures of Phase 2 (heightened alert), we now offer on-site entertainment & hosting while adhering to COVID 19 Regulations. Small-Group Social Gatherings are allowed From 10 Aug 2359hrs.
(*Latest Update: From 26th April 2021:
There are no limits to Households visitors at any point in time. Our party rentals such as bouncy castles can still be an option, and our balloon decorations are offered as per usual.
We have developed and redesign our entertainment packages so that we can cater our party entertainment to a much smaller group than before and even introduced new services such as board game hosting which caters specifically to smaller groups.
There are still plenty of party hosting options available!
Not Limited to 5 Pax
Within the Home, Households do not have a limit to the number of visitors at a time. (Note: this includes our facilitator or talent)
Available Options for Intimate Events & Small Scale Social Gathering:
VIRTUAL PARTIES
During the strict lockdown period, we previously launched several Virtual Party Entertainment Alternatives for children of all ages!
We introduced the concept of Virtual Parties right at the beginning of Lockdown since March 2020. Over the last few months they have grown in popularity and we now offer over a virtual party options.
We have also been working with the corporate clients and organisations to deliver virtual entertainment to audiences of over 300 pax at once. Whether it's a Virtual show, or a Virtual Workshop, You can find out more below and consider these options instead of Live Entertainment Options.
Together we can celebrate!
Unlimited Participants!
Enjoy the party in the comfort of your own home
Available Options for a Virtual Party Experience
Watch us Celebrate Virtually!
Virtual Magic Show
20-minutes of Online Magic streamed LIVE INTO YOUR LIVING ROOM! Click on a private link where you will find your entertainer ready and waiting to put on an action packed comedy magic show for your child!
D.I.Y Special: Rainbowly Box
Lock Down Special D.I.Y Rainbowly Craft
Looking for a Hands-On Activity to keep your little ones occupied? Get your children to customise their own healthy sweet strawberry treats!
Caricature & Workshops
A one of a kind experience for your guests! Personalized Live Caricatures! Workshop options are available too! Learn, enjoy and have a one-of-a-kind keep sake today!
D.I.Y. Craft Kits & Virtual Facilitation
D.I.Y. Craft Kits
Give your child a fun, creative experience to enjoy with the rest of the family! Our D.I.Y craft-kits makes for the perfect birthday / party gift that keeps your child away from screentime!
Magic Online: Orange Wand Course
Magic Online: Orange Wand Course
This is a special online course utilizing video calls to provide interactive teaching and feedback. With this, your child can learn magic from the comfort of home!
Interactive Virtual Storytelling
Interactive Virtual Storytelling
Looking for an engaging storytelling session for the little ones? Look no further! Let us bring your child to a whole new world with our magical storytelling explorers!
Professional & Energetic Kids Party Host You can Trust! – Click to see our reviews
Providing Quality Children Entertainment Island-Wide!

Finally, here's an
EXCLUSIVE

OFFER

for you!
Enjoy ATTRACTIVE SAVINGS

w

ithout having to commit to a Party Date right away!
Jellybean Party Credits are not the only way to support Jellybean Party, but more importantly the talent and team behind the company. We do our best to serve and give back to you in the way we know best – great entertainment and service.
Together we can overcome even the toughest of circumstances.
Pay $50 to receive $100 credit for purchase with any of our packages.
---
---
*Voucher can only be purchased once and is a LIMITED-TIME offer within the month of April.
BONUS
PARTY ADD ON
(CHOOSE ANY 1 FOR AN ADDITIONAL $100)
**only available with any purchase of
Economy, Standard, Premium or Deluxe Package
Customize Package
" The Party Only For You "
None of the packages suit your needs? Want something different?
Please feel free to contact us for a free personal consultation, and we will be very happy to discuss your requirements and customize a package to suit your needs. After all, we want to see your party being special and a huge success!
(You may book us for individual services as well.)
Please click the following button to find out more information about our party entertainments: